Regular Price is $25.00
This pack is universal and compatible with all Legends devices.
Dr. Seuss Pinball Pack 2 - Part 1 to be released on March 31, 2023 and consists of Green Eggs And Ham and Dr. Seuss's ABC.

Dr. Seuss Pinball Pack 2 - Part 2 to be released in June 2023 and will consist of Oh, the Places You'll Go! and One Fish, Two Fish, Red Fish, Blue Fish.
AtGames and Magic Pixel are proud to introduce a new pinball pack based on the wonderful world of Dr. Seuss™! This pack includes 4 arcade-quality Dr. Seuss™ pinball tables with up to 1080p resolution and 60 frames per second performance! Now your favorite Dr. Seuss™ characters come to life in these exclusive pinball tables, only work on the AtGames Legends Arcade machines.  

Each table will have progressive levels that match the storyline from each book. These tables are designed using the classic Dr. Seuss

™ 

characters and artwork, with vibrant colors and exciting gameplay for the whole family!

Dr. Seuss

™

Pinball Pack 2

 

includes: 

Green Eggs and Ham

Dr. Seuss's ABC

Oh, the Places You'll Go!

One Fish Two Fish Red Fish Blue Fish
You can find the User Manual for the released Green Eggs and Ham, and
Dr. Seuss's
 ABC pinball tables HERE.
Note:
1. Dr. Seuss Pinball Pack 2 consists of 4 tables in total. Green Eggs And Ham, Dr. Seuss's ABC, Oh, the Places You'll Go! and One Fish Two Fish Red Fish Blue Fish. We have taken Dr. Seuss Pinball Pack 2 and split it into 2 parts with each part consisting of 2 tables.
2. You will be receiving your redemption code for Dr. Seuss Pinball Pack 2 - Part 2 via email as well as in your Digital Locker in June 2023 once released. We can't wait for you to get your hands on these new Dr. Seuss Pinball Tables! 
3. Some devices include built-in flash memory and don't require a USB flash drive. Only those that require an external flash drive will need to follow the on-screen display menu to download the pinball/game pack to a FlashDriveX™-formatted USB drive (not included). If your USB flash drive is larger than 32GB, you can partition it from your PC. The first partition, for use with FlashDriveX, should be at least 16GB and recommended not to exceed 32GB. (For how to format a USB Drive and download the pack, please see here.) 
4. If you choose to associate your purchase with your Legends ID account, you may install your digital pinball tables/games pack on up to six (6) connected devices. As an alternate option, you may choose to associate your purchase with a single compatible device, which will allow for offline usage, but does not allow for usage on any other device.
5. All features, updates, and game packs have been designed and tested to work with the latest firmware (5.68 or newer) of your device. AtGames cannot guarantee compatibility with previous firmware versions. It is always recommended that users be on the latest firmware to ensure a smooth gaming experience. For more information, please refer to the release notes section HERE 
Flipper Lag
Purchased this for my ALU and also bought Taito, Pack 1. With Space Invaders. The Taito tables have no flipper lag, but the Dr. Seuss, Pack 2 has a lag just about long enough to make the tables unplayable. Unenjoyable yes, and that's 99% of the fun buying and playing these games but without the flipper lag. I surely can't be the only ALU doing this and having this problem.
By the way. I get notification that update 5.69 is available for download but my ALU, on 5.68, does not see an update available. So don't know if this is my answer to my problem or if it might get corrected when the second release comes out for the other two games. Thanks for your time!
Back display not working for pack 2 - IT WORKS NOW!
Loving the new packs now that I have the correct firmware. If your back display isn't working just check to make sure you are on the latest firmware. Thank you!!!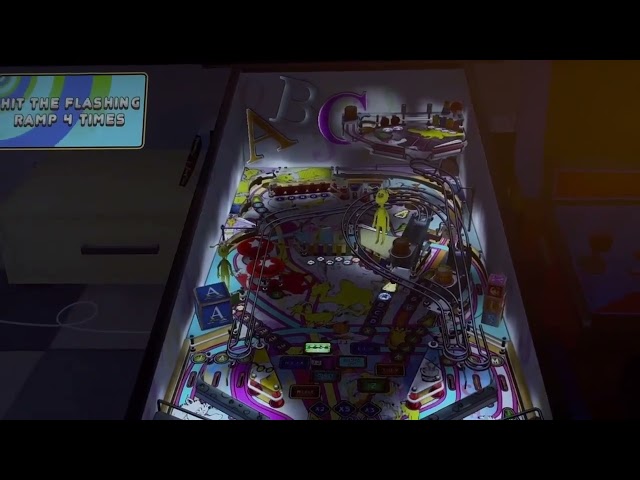 Great new virtual tables
My daughter and I are loving the new Dr. Seuss tables and both work great on the ALP and ALP Micro. Highly recommend
AtGames and Magic Pixel does it again!
I love this exclusive relationship between Magic Pixel and atgames. Every pack seems to get better and better with the recent release of the 2nd Dr Seuss branded pinball pack. The graphics look great, the gameplay is smooth with lots to do. I love the sound and voice effects used. It's serving the Seuss IP well and I really feel the sense of whimsy that I get from reading the books. Another great add to the Atgames Legends family of products. Well done!
Addictive
Magic Pixel shines again with their release of both Green, Eggs & Ham and ABC! The 3D graphics are extremely well done and both games provide competitive gaming in a virtual pinball environment.